Braille Transcription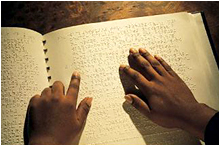 The time is always right to do what is right. –Martin Luther King Jr.
accessLinx will transcribe your materials into braille or large print format to ensure your information is accessible!

Braille transcription …production by braillists certified by the Library of Congress in Literary Braille Transcription and Proofreading as well as Nemeth code
Anything that can be printed can be brailledÔǪjust think about that concept! Ask yourself, "┬áwhy wouldnÔÇÖt I want to connect with all potential audiences?ÔÇØ One way of ensuring that you are reaching out to many more peopleÔǪ braille transcription enables individuals who are blind to read independently and have access to information that everyone else has. accessLinx provides numerous braille applications and the possibilities are endless!
accessLinx has always been there for us. Whenever we have needed a quick turnaround with excellent quality, we have gotten it. accessLinx has helped us with special accommodations including brailling of documents. It's great to have access to the many specialized capabilities accessLinx brings to us.
David Vandergoot, Ph.D., CEMS
Typical braille transcription projects include (but certainly arenÔÇÿt limited to) product information, policy and procedural manuals for employees, menus, hotel information, educational materials, promotional materials, applications, business cards, brochures, surveys, tests, text books, certificates, signage, tickets, invitations, labels, etc.
┬áPlease visit all of our Portfolio pages…